Background
On your successful application for a 40E permit, you will receive a map of your area from DMIRS similar to that shown below.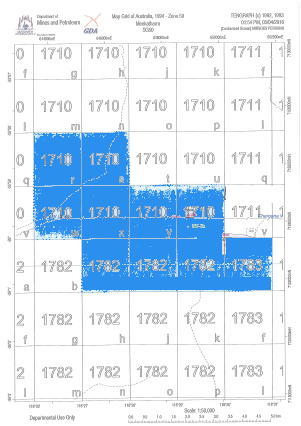 The above 40E permit has 10 corners. The coordinates of each of these corners is given in degrees and minutes – eg. -26°2′, 118°27′
A minute is 1/60 of a degree.

Convert the coordinates for each corner to decimal degrees using the conversion web page below. Enter 0 (zero) for the seconds values.
https://www.latlong.net/degrees-minutes-seconds-to-decimal-degrees
Then use either of the 2 methods below to import your 40E shape into your Trilobite app. The shape will be imported as a trail and will be permanently stored on the phone unless you delete it.
Method 1 – Spreadsheet
To display a 40e permit on your map, write the coordinates of the permit into a .csv file, and import this file into Australian Geology Travel Maps – as per these details …
on a PC, download and open the 40e_permits.csv file – click here

replace the coordinates in the .csv file with the coordinates of your permit

add more rows if your permit has more than 4 corners
leave the srid values and speed values as is
use the same id on all rows
the first coordinate needs to be repeated in the final row

save the .csv file, and email it to yourself
on your phone/tablet, open the email, tap on the .csv file, and then choose to open it with Australian Geology Travel Maps (look for thetrilobite icon)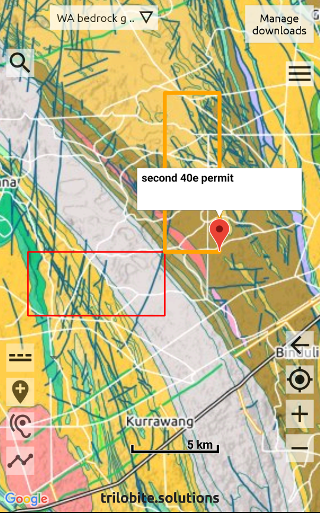 Method 2 – Google Earth
To display a 40e permit on your map, create a polygon in Google Earth, export to a KML file, and import this file into Australian Geology Travel Maps – as per these details …
In Google Earth on a computer, create a Polygon representing the boundary of your 40e permit
In the left pane, choose 'Save place as ..' and export to a KML file (not KMZ)
Email the .kml file to yourself, as an attachment
Open the email on your phone/tablet, click on the .kml attachment, and choose to open with Australian Geology Travel Maps (look for thetrilobite icon)