Welcome to the home of Australian Geology Travel Maps.
Features ..
No internet required in the field
Simplified and detailed geology maps for all of Australia
Landscapes are shown on all maps
Talking maps – the geology description is spoken when a boundary is crossed
Total magnetic intensity images for all states
Petroleum, mining & exploration leases (iPhone/iPad only)
access to 360+ Geological Survey of NSW phone maps
Photos of geological features and landscapes (Android only)
Bush-walking tracks shown with contours
Unsealed roads clearly shown – even when viewing large areas
Record your trail – walking and driving trails coloured differently
Import and use any MBTiles phone map – not just geology
Track the geology on flights across Australia
No internet is required in the field
Most importantly, the maps are stored on the phone or tablet so that the system works everywhere in Australia, without any requirement for mobile reception (except for the initial download of the app and your map, where WIFI is suggested). Note that for most of the area of rural Australia, mobile reception is either not sufficient to support a reliable data connection, or is non-existent, so this feature is critical. (Some extra less-critical features are available when you have internet – eg. google maps, google satellite imagery.)
Hear spoken updates on the geology while you drive
The app can speak to you, telling you whenever you pass over a geology boundary into a different rock unit type. This familiarises you with the geology and landscapes surprisingly quickly. This works not only for the Trilobite maps, but for any imported interactive phone map, for example geology maps imported from the Geological Survey of NSW.
Australian landscapes and geology
This app delivers a unique collection of maps covering the entire Australian continent. Geology and topography data are combined by the author to paint a picture of the landscape. This is supplemented by photos of scenery and rocks in the Android version, many of them kindly supplied by the state geological surveys.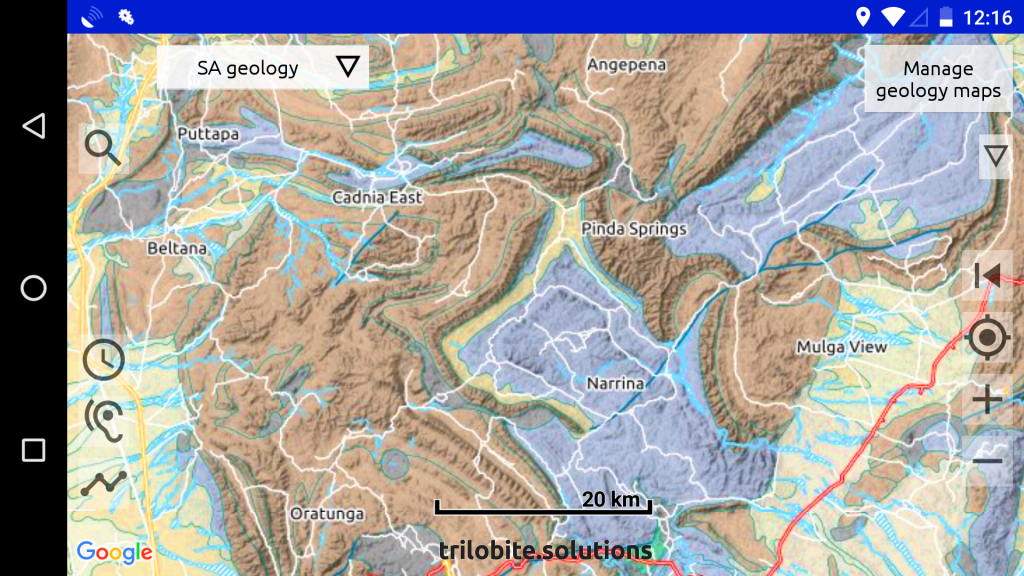 Detailed Geological Survey maps
Western Australia 1:500k, South Australia 1:100k, Queensland 1:100k/1:250k, New South Wales 'seamless', Northern Territory 1:250k, Tasmania 1:25k/1:250k, and Victoria 1:50k/1:250k geology maps are available. Australian Geology Travel Maps is also the simplest and most effective system available for viewing maps created by the Geological Survey of NSW.
Total magnetic intensity images
You can download total magnetic intensity (TMI 1VD) images for all of the states. In the iPhone app, you can overlay these as transparencies above the geology maps. The transparency value is fully adjustable via a slider near the bottom of the screen.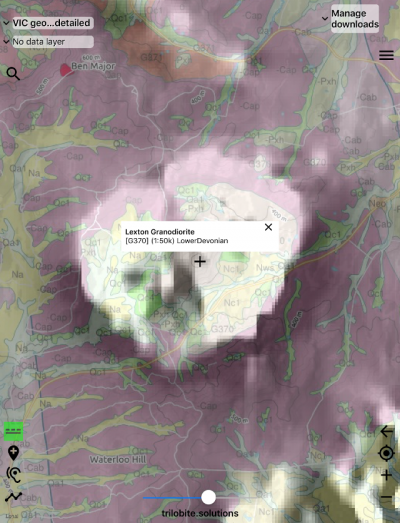 Petroleum, mining & exploration leases (iPhone/iPad only)
These are available for all states.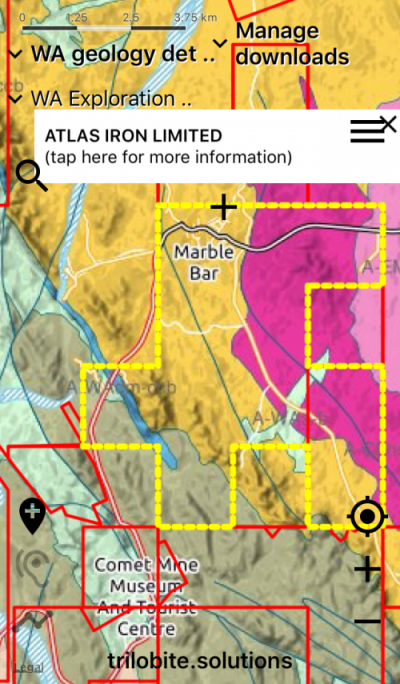 Bush-walks
Named bush-walking tracks from Open Street Maps are clearly shown, and in addition to hill-shaded relief, contour lines are displayed, so that ascent and descent heights for walks are known.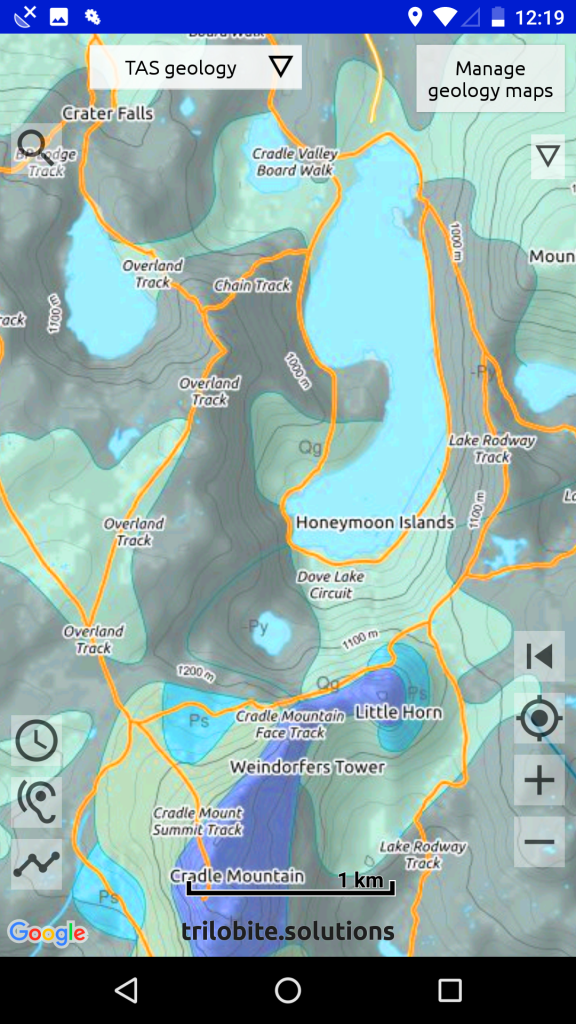 Caravaners & 4WD Owners
Country roads are displayed even when viewing large areas, with unsealed roads clearly marked, so that suitable routes can be chosen.
Avoid getting lost
The drawing of your current trail is available with one click. It is suggested that you use this whenever you start a bush-walk. It is easy to get disoriented when the weather or the lighting changes. If you are recording your trail, this will help you return to your start-point.
Record your day's travel
At the beginning of the day, start recording your trail. Your driving and walking trails are automatically coloured differently, so at the end of the day, you have a clear record of your travels, including stops. You can add a description and then export the trail with a few clicks, and send it to friends, who can view it in Google Earth.
Import and use any MBTiles phone map
The app is also useful as a general MBTiles map viewing tool – not just geology maps. It will read any MBTiles format map – interactive or non-interactive. Any maps created as interactive MBTiles format become talking maps with this app. It can be used for soil maps, vegetation maps, or any type of geographical map, and is not restricted to Australian maps.
Pass the time on long flights
If you are flying across Australia, book yourself a window seat, and run the app. As you fly over deserts and mountains, you will be able to view the plane's location on the phone map and see what geology the landforms are made of. Note that GPS availability varies between planes and different quality phones.
Maximise battery life
When you are bush-walking, please put your phone into flight mode. This can very significantly extend your battery life.
Acknowledgements
Thanks to the government organisations – Australian and otherwise – that have released their data under a Creative Commons BY license. Without freely available quality data, this app would not have been created. And gratitude to the generations of dedicated field geologists that have walked, ridden and driven over the remotest parts of Australia collecting data that forms the basis of our knowledge of the evolution of the Australian continent.
Pricing
Australian Geology Travel Maps costs $AU11.99 per year. This is significantly less than the cost of just one printed geology map or a good tourist map. The Apple subscription covers all your iPhones/iPads, and the Android subscription covers all your Android devices, for example, you might own a phone and a tablet. This pricing structure allows this system to be maintained and improved into the future. We recommend that you use the 1-week trial period to install the app, download your map of interest, and use in the field, or while driving around.
Warning about iPads
The WIFI-only version of the iPad Pro does NOT have GPS functionality. You need to purchase the 'Cellular+WIFI' iPad Pro, but you do NOT need to have a SIM inserted.